Top Best Amazon Advertising Services to Boost Your Sales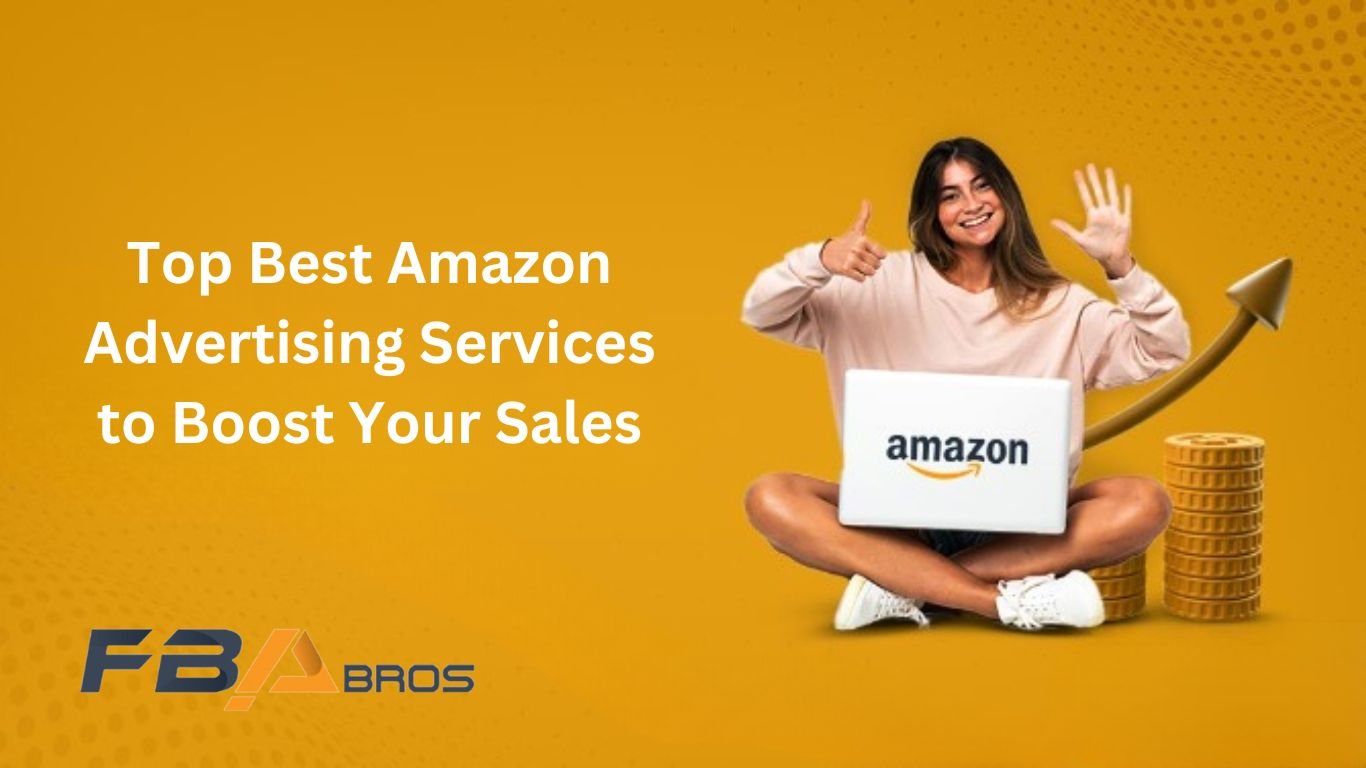 Amazon has become a formidable force for both advertisers and sellers. Amazon Advertising Services provides a powerful platform to promote products and services. Businesses can reach a larger audience and dramatically increase sales by utilizing these services.
In this comprehensive guide, we'll explore the top Amazon Advertising Services, shedding light on how they can help you drive success in the competitive e-commerce landscape.

Understanding Amazon Advertising

It's crucial to grasp the fundamentals of the specifics of Amazon Advertising Services. A set of resources called Amazon Advertising is intended to assist brands, vendors, and sellers in promoting their goods and services on the Amazon marketplace. With this, you can enhance your visibility, attract more customers, and ultimately drive higher sales.


Top Amazon Advertising services include: 

Sponsored Products

Sponsored Products are an excellent entry point into Amazon Advertising. These are pay-per-click (PPC) ads that appear within search results and product detail pages. By bidding on relevant keywords, you can boost your product's visibility, increase sales, and control your advertising spend.

Sponsored Brands

Sponsored Brands, previously known as Headline Search Ads, are another essential Amazon Advertising tool. These ads enable brands to showcase their products and brand logos in a banner format, enhancing brand recognition and customer trust.

Sponsored Display

Sponsored Display ads extend your reach beyond Amazon, targeting audiences both on and off the platform. These ads are excellent for driving product consideration among potential customers.

Sponsored Video

Video content is king, and Amazon recognizes this. Sponsored Video ads allow you to engage potential customers with video content on product detail pages, providing an interactive way to showcase your products.

Amazon DSP (Demand-Side Platform)

With the help of the powerful programmatic advertising platform Amazon DSP, marketers can connect with their target market on and off Amazon. It leverages Amazon's rich data to create highly effective advertising campaigns.

Amazon Stores

Amazon Stores are custom storefronts where brands can create a unique shopping experience for their customers. This feature lets you showcase your entire product catalog, share your brand story, and enhance customer loyalty.

Amazon Live

Live streaming is a booming trend, and Amazon Live capitalizes on it. It allows you to engage with your audience in real time, answer questions, and present your products through live video broadcasts.

Amazon Posts

Amazon Posts are like social media for your products. This feature enables you to create shop able posts that appear on your Amazon Store, product detail pages, and in Amazon's discovery feed.

Display and Video Ads

In addition to Sponsored Display and Sponsored Video, Amazon offers a range of display and video ad formats. These allow you to target specific audiences and engage them with compelling visual content.

Amazon Attribution

Amazon Attribution provides insights into how your non-Amazon marketing channels impact your Amazon sales. This tool is invaluable for tracking the customer journey and optimizing your marketing strategies.

Amazon Associates

By promoting Amazon products on your website or blog, you can earn commissions through the Amazon Associates program, an affiliate marketing scheme. It's a great method for making money off of your content.

Marketing and Sales

Running promotions and deals on Amazon can be a game-changer. Offering discounts, coupons, and limited-time offers can attract more customers and increase sales.

Amazon E-mail Marketing

E-mail marketing remains a potent tool in your marketing arsenal. By building a list of engaged customers, you can send targeted e-mail campaigns to promote your products and services effectively.

Making the Most of Amazon Advertising Services


Now that you're acquainted with the key Amazon Advertising Services, let's explore how to make the most of them.

Research and Optimization of Keywords

The secret to successful Amazon advertising is keyword research. Determine which keywords are most effective and relevant for your goods and services. Naturally include these keywords in your advertising campaigns and product listings.

Strong Advertising Creatives

Your ad creatives play a pivotal role in attracting and retaining customers. Craft compelling and visually appealing ad copy and images to stand out in the competitive marketplace.

Financial Management

Give your advertising campaigns a defined budget and keep a careful eye on their results. Amazon Advertising gives you the tools to monitor your spending and improve the return on investment of your campaigns.

Analytics and Data Insights

Leverage the analytics and data insights provided by Amazon Advertising. Understand your customers' behavior, track sales, and fine-tune your advertising strategies based on real-time data.

A/B Testing

Experiment with different ad variations to find the most effective strategies. A/B testing can help you refine your ad campaigns for better results.

Conclusion:

In conclusion, Amazon Advertising Services offers a wide range of tools and strategies to boost your sales and promote your products and services effectively. By harnessing these services and following best practices, you can stand out in the competitive e-commerce landscape and achieve success in the world of online business. Take advantage of these services without holding back to advance your Amazon marketing.

Answers to Common Questions (FAQs)

What are the Amazon Advertising Services best practices?

Best practices include thorough keyword research, creating compelling ad creatives, budget management, monitoring analytics, and conducting A/B testing to optimize your campaigns.

Who is the largest advertiser on Amazon?

Amazon allocated a staggering $13.5 billion for advertising within the United States in the year 2022. This e-commerce giant solidified its role as the leading U.S. advertiser for the fourth consecutive year, with Amazon's advertising budget witnessing a remarkable nearly 30 percent growth in comparison to the previous year.

What do Amazon advertising services entail?

To put it simply, Amazon Advertising, previously known as AMS or Amazon Marketing Services, operates much like Google's pay-per-click advertising model, where sellers are charged only when shoppers click on their advertisements
---
---
---